7 Incredibly Simple Ways To Add Charm & Character to Your Bathroom
Are you looking for quick and easy ways to liven up your bathroom without a massive makeover? Here are some really simple ideas that will take your bathroom decorating expertise to a whole other level.
1. Mason Jar Soap Dispenser Lids
I love how just a simple small change like adding your own soap dispenser lid to a jar can dramatically change the feel of a bathroom instantly and make it feel more homey and personalized. Simply find your favorite old, used jar from the pantry and pour in your favorite soap. Southern Jarring Co has the perfect lids for them! For a cleaner look go for a smooth-surfaced jar. If you're looking for a more farmhouse or rustic feel, go for a jar with a little more texture or the classic Ball jar. You can even go all out and use these for your shampoo, conditioner, lotions and oils.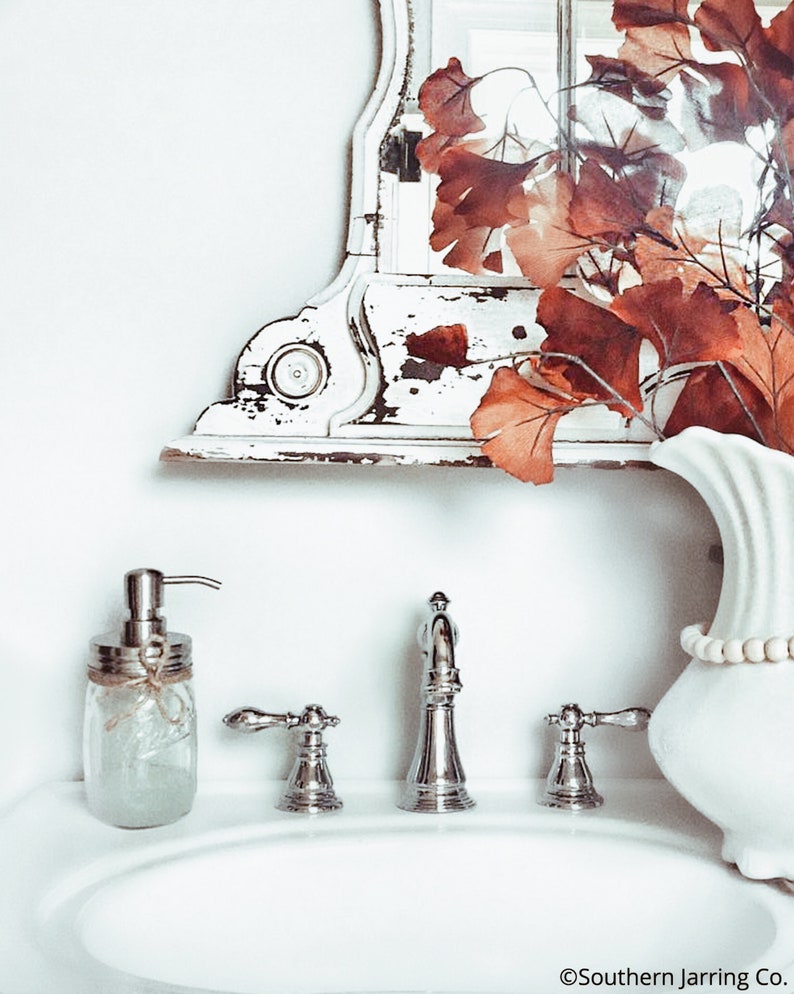 2. Glass Amenity Canisters
Go for a set of three for starters with different heights to add a feel of variety and to step away from monotony. You can get glass or acrylic canisters from many different stores, but glass of course gives it a more authentic feel. However, if you have a small space and maybe a couple kids running around, you may feel it more comfortable to opt for the acrylic versions. And of course the upside is that they are less expensive. The canisters above are from Pottery barn, however, if those are too pricey here are a couple options below, depending on what goes best with your taste in decor.
3. Wire Baskets
Wire baskets can make a huge difference in your bathroom decor. There is something cozy about looking at a basket with a bunch of clean rolled up towels bunched up together. Darker metal baskets go nicely with white or light colored towels so you can really play up that wire mesh of the basket.
4. Wicker Baskets
Wicker baskets are a great way to add an element of texture and warmth to your bathroom decor. Use them as storage for towels, hand towels or whatever else you might need to store away. I found these wicker baskets to be my favorite.
5. Floating Shelves
Shelves! I find that a lot of bathrooms normally don't have much going on above the area where the toilet seat is. This is the perfect place to put either two or three stacked shelves. You can also give shelves an extra statement by pairing them with dark iron brackets.
Shelves are the perfect way to bring in a good amount of character into any small to average-sized bathroom! After installing, the fun part is figuring out what to store on them. You can set plants, stack towels, place baskets & amenity jars, show off your bath salts, bath bombs and all of your favorite amenities. You can even frame your favorite bathroom wall quote and place it on one of the shelves to really bring it all together. Read on to the next paragraph for some fun ideas on some great ideas for bathroom wall art.
6. Calligraphy Wall Decor
Paired with nice frames, there's no way you can go wrong with a beautiful set of calligraphy bathroom art! There are endless options of clever, funny and entertaining bathroom wall art that you can find. However, here is a 4-piece set of 'Wash, Brush, Floss, Flush' prints that I originally hand wrote myself and wanted to share with you! I've seen these in gold frames, white frames, thin black frames and wooden frames and found that they work great with any frame of your choosing.
If you're looking for something with a little bit more of a kick, these signs are sure to bring some good entertainment for children and guests…
7. Switch Out The Lever
It may seem like too tiny of a detail to even notice, but have most toilets come with those ordinary mainstream white or silver levers. You can easily switch out the lever with something a little less basic and more welcoming! And apparently they are really simple to install. This tiny detail actually makes a huge difference in the look and feel of any bathroom.
There are many different lever styles to choose from, however I'm really enjoy this particular style of lever as a means to step out of the ordinary and add a little bit more of a traditional feel to the overall look of your bathroom, especially if your bathroom already has a few dark accents!
Bonus: Ideas That Are Too Good Not To Share
Some final options for bathroom decor before you leave (also because I didn't want to end this article talking about toilet levers)! All of the items mentioned below are not only a few of the most charming ideas for bathroom decor that I could find but are also in support of small businesses across the US. Take a look at what I found below.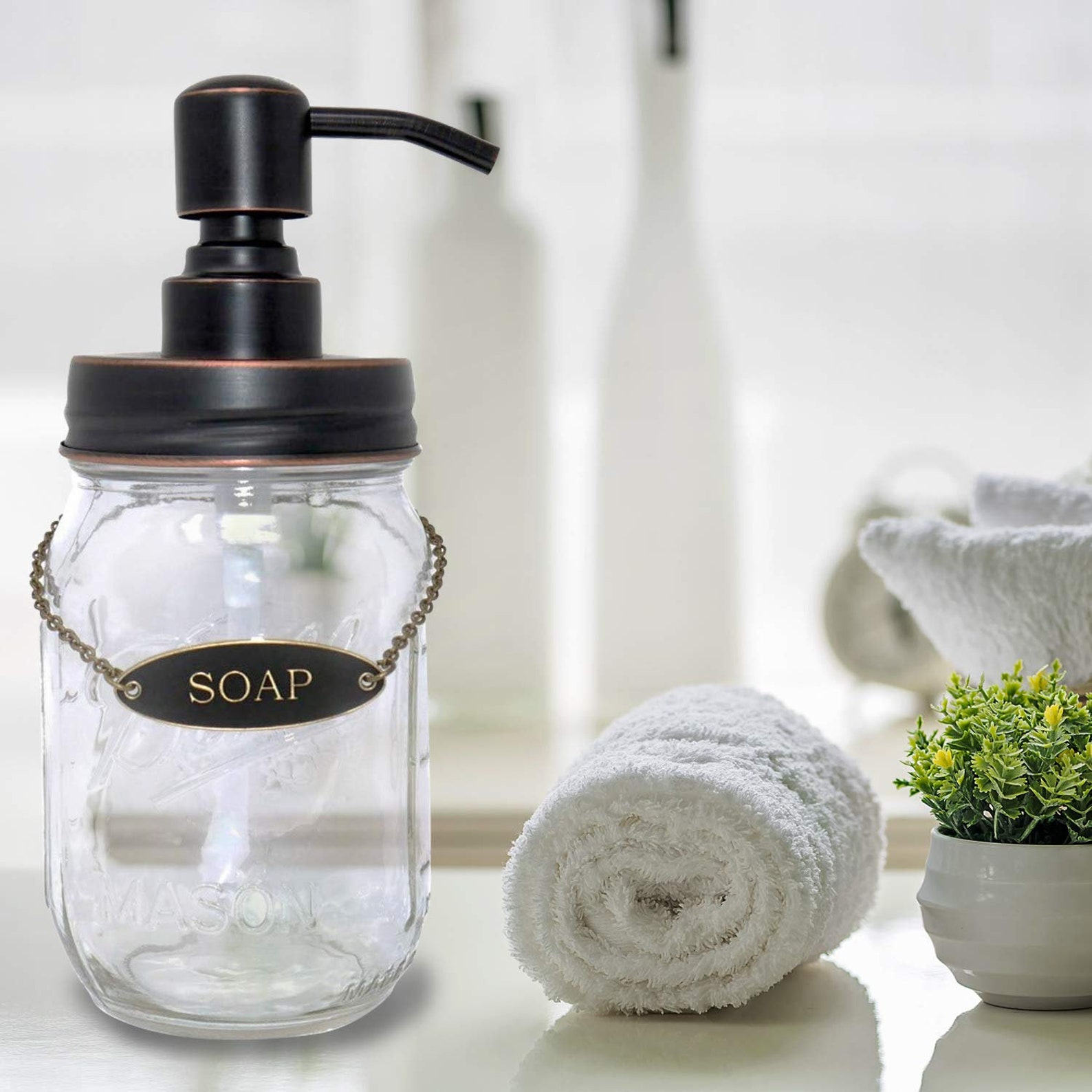 Hope you enjoyed these incredibly simple ideas for bringing extra charm and character to any bathroom! I hope you found at least one or two ideas you're loving. If you have any ideas of your own, be sure to share them in the comment section below, I'd love to see what you come up with. Happy decorating!